Profile

Free Account
Created on 2014-01-29 00:37:25 (#2154438), last updated 2015-09-20 (104 weeks ago)
3,361 comments received, 1 comment posted
1,245 Journal Entries, 93 Tags, 0 Memories, 13 Icons

About
| | |
| --- | --- |
| Name: | Doggie |
| Birthdate: | Dec 17 |
| | |
| | |

Mini Bio

~:DoGGiEDYNaStY:~
Nickname
"Doggie"
Gender
♀
Age Range (Zodiac)
20 - 40 (♐)
Personality Traits
Curious, easy-going, candid
Other Features
I wear glasses
Likes
Cars and airplanes, voice overs, games, animals (especially dogs), knowledge and research, humor
Dislikes
Discouragement, smoking, murder/rape, tomatos, spiders
Hobbies
??
About Blog
Created Dec 2005. First layout revision was on 9/30/2007. Second layout revision was on 3/8/2010. Third is June 18, 2012.


☆SEIYUU Blog Crew¤勝生真沙子先生
☆

- CLAIMS, Quizes, MEME -
HERE: http://doggiedynasty.livejournal.com/124840.html
- COLORBARS OF LOVE -
HERE!: http://doggiedynasty.livejournal.com/40207.html
- Flag Counter -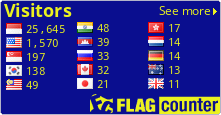 Connect
acting
,
action
,
airplane
,
america
,
anime
,
apple pie
,
art
,
austin powers
,
auto racing
,
bishonen
,
bleach
,
bloody roar
,
bob marley
,
books
,
brad hunter
,
breath of fire
,
brian drummond
,
cars
,
cats
,
cheesecake
,
cheetahs
,
comedy
,
crispin freeman
,
dance dance revolution
,
disney
,
documentaries
,
dogs
,
donuts
,
drawing
,
driving
,
dusty springfield
,
family
,
fanart
,
fantasy
,
fighter planes
,
flight sims
,
flying
,
food
,
game shows
,
gamecube
,
games
,
gaogaigar
,
gargoyles
,
gundam
,
hayao miyazaki
,
hellsing
,
hideo kojima
,
hirata hiroaki
,
hiyama nobuyuki
,
humor
,
ice cream
,
inoue kazuhiko
,
inuyasha
,
ishikawa hideo
,
jets
,
kai hiwatari
, kanemaru junichi,
kanno yoko
,
katsuki masako
,
klondike bars
,
learning
,
legend of zelda
,
literature
,
macross
,
mario
,
marvel
,
mary elizabeth mcglynn
,
metroid
,
midorikawa hikaru
,
miki shinichirou
, miyake kenta,
monster farm
,
monster rancher
,
morikubo shoutarou
,
mortal kombat
,
movies
,
music
,
mystery
,
myth
,
nakai kazuya
, nakata jouji,
nascar
,
newgrounds
,
news
,
ninja
,
nintendo
,
nostalgia
, nozawa masako,
ogata megumi
,
paku romi
,
piccolo
,
playstation
,
poetry
,
pokemon
,
politics
,
princess mononoke
,
puzzles
,
racing
,
radio
,
research
,
rocket knight adventures
,
roller coasters
,
rpg
,
sailor moon
,
samurai
,
scott mcneil
,
secrets
,
sega
,
seiyuu
,
seki tomokazu
,
seki toshihiko
,
shinobi
,
sky
,
sonic
,
sonic the hedgehog
,
soul calibur
,
starfox
,
stories
,
super robot wars
,
super smash bros
,
takayama minami
,
tetris
,
vehicles
,
video games
,
voice overs
,
wendee lee
,
wind
,
wolf's rain
,
wolves
,
writing
,
yamaguchi kappei
,
yoko kanno

People
[View Entries]

Communities
[View entries]

Feeds
[View Entries]

Subscriptions (0)

Linking
To link to this user, copy this code:
On Dreamwidth:
Elsewhere: